US Consumer Spending: Resilient Today, Uncertain Tomorrow
Highlights:
Sentiment surveys have shown notable caution about the economic outlook among US consumers. However, consumer spending has remained relatively robust despite higher interest rates.
Resilient spending has challenged 2023/2024 recession forecasts and prompted Fed officials to move towards "higher-for-longer" interest-rate projections.
Despite special factors that have supported the consumer in 2023, headwinds are growing. Markets expect the Fed to cut interest rates next year in response to slower spending and jobs growth.
Gloomy Consumers Keep on Spending
While US consumers have displayed notable gloom in sentiment surveys this year, their actual spending paints a different picture. One might question, given the prevailing consumer sentiment, why spending remains robust.
The University of Michigan's consumer sentiment survey, a bellwether since the early 1950s, reached historic lows in June of 2022, largely attributed to rising inflation and interest rates. These conditions led consumers to hesitate when it came to big purchases such as homes or cars, citing unfavorable prices and financing terms. The sentiment index has remained at recession-like levels through this October (Figure 1).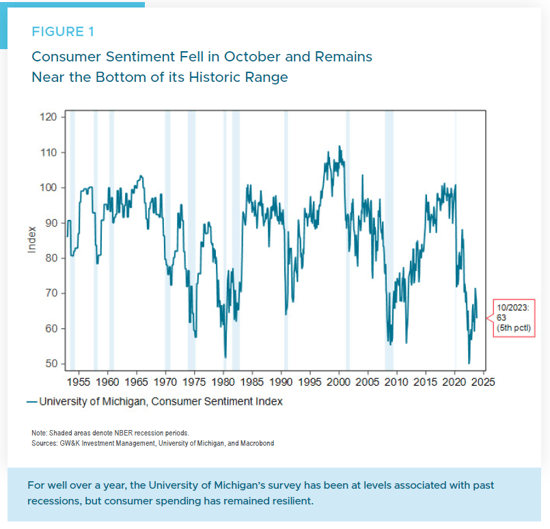 Contrary to this sentiment, spending patterns from hard data, including government reports on retail sales and personal consumption expenditures, indicate resilient consumer behavior. For instance, from 2021 through the second quarter of 2023, real personal consumption expenditures have grown at a steady 1.9% annual rate. The level of spending has also remained notably higher than the pre-pandemic trend (Figure 2).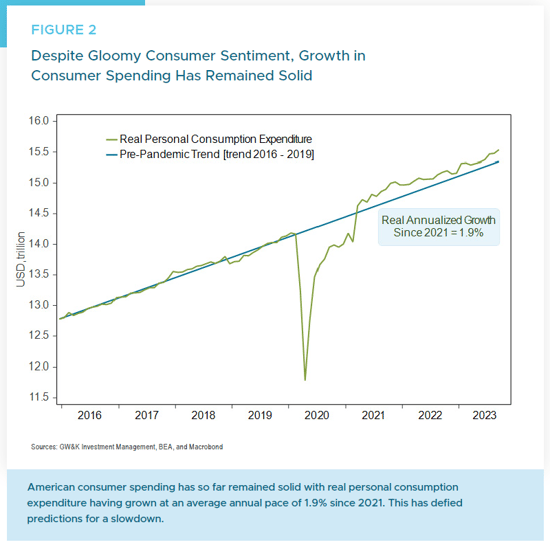 The momentum has, if anything, quickened. Third quarter GDP data shows that real personal consumption expenditure surged to a 4.0% annual rate. And the most recent retail sales data for September handily surpassed economists' predictions, showing widespread gains in retail sales for the third quarter (Figure 3).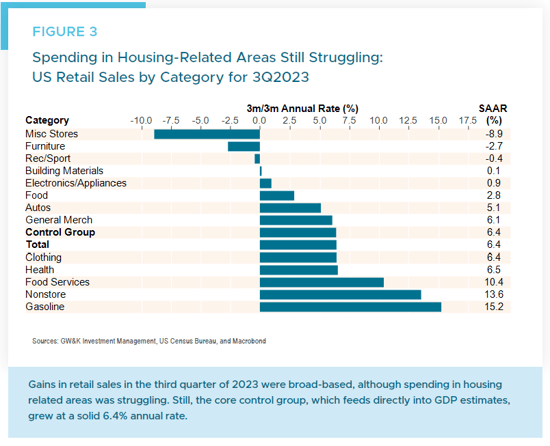 This unexpected robustness in consumer spending surprised both private-sector economists and Federal Reserve officials. Many had anticipated a mild recession in the latter half of 2023, expecting a modest contraction in real GDP, near-stagnant consumer spending, and rising unemployment. But recent adjustments by Federal Reserve officials and many economists reflect a more positive outlook for this year and next. The changed outlook has also prompted Fed officials to move toward "higher-for-longer" interest-rate projections.
Underpinning the Resilience
Several factors contribute to the surprising resilience:
1. Strong Labor Market:  A consistently low unemployment rate and an accelerating growth in nonfarm payroll employment have driven wage income up by 5% over the past quarter and year, boosting consumer spending (Figure 4).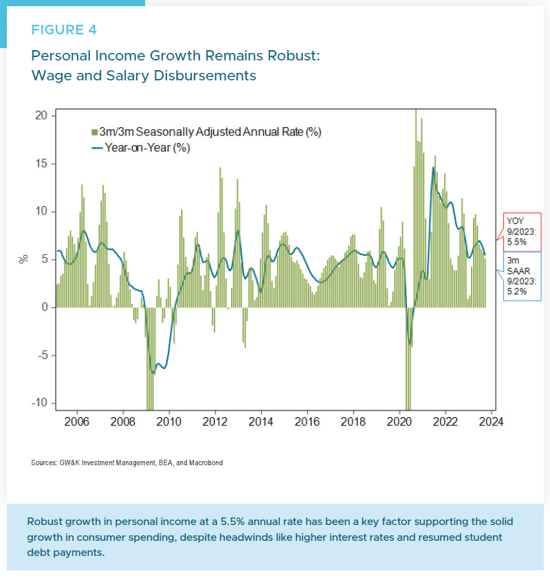 2. Insulation from Interest Rates: Despite rising interest rates, many households and businesses locked in lower rates during the pandemic, ensuring minimal impact on spending. For example, while the current 30-year mortgage rate approaches 8%, the average rate on outstanding mortgage debt was only 3.6% as of mid-year (Figure 5).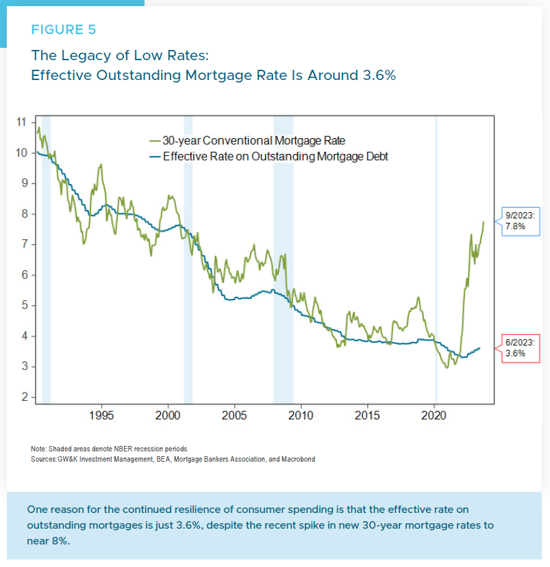 3. Healthy Balance Sheets and Savings: Households and businesses fortified their financial positions during the pandemic. Even with concerns about dwindling pandemic-era savings, it's estimated that households still have around $1 trillion in excess savings (Figure 6).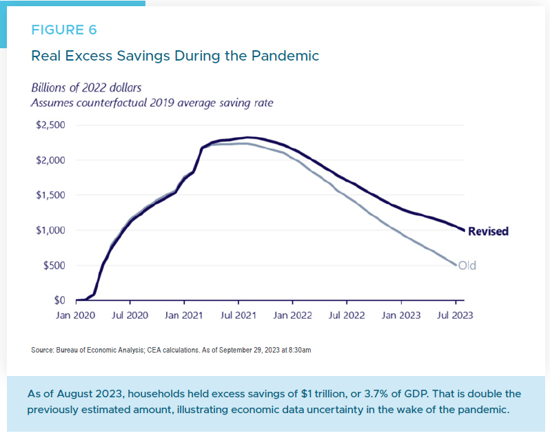 4. Federal Budget Stimulus: As an expansion of the federal budget deficit, doubling from $0.9 trillion to $2.0 trillion over the past year, has acted as a significant fiscal stimulus, benefiting households and bolstering corporate cash flows (Figure 7).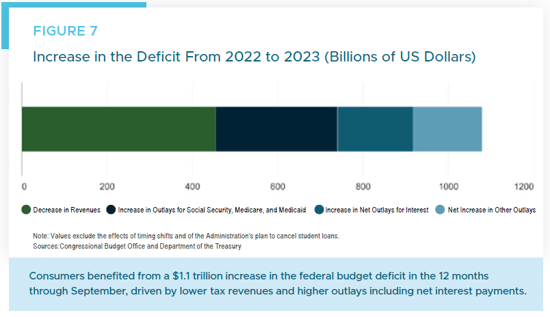 Potential Headwinds
As we look to the future, several challenges emerge:
Rising interest rates on various loans could suppress consumer spending (Figure 8).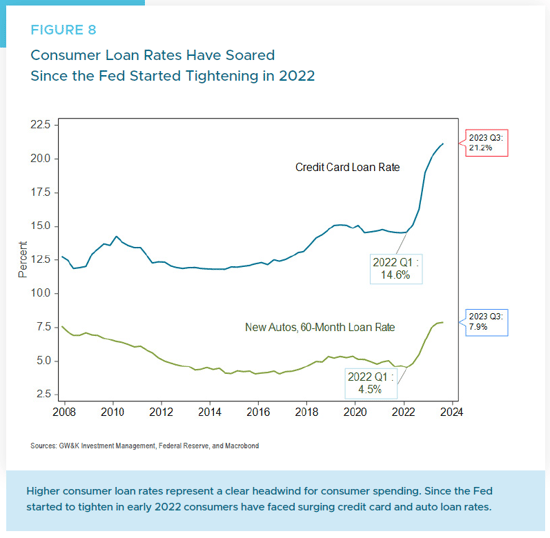 Despite overall healthy balance sheets, there are pockets of distress among lower income households, with consumers falling behind on car payments at the highest rate in decades.
Bank surveys suggest a decreased willingness to lend to consumers — although recent bank earnings offer a more positive assessment of consumer health (Figure 9).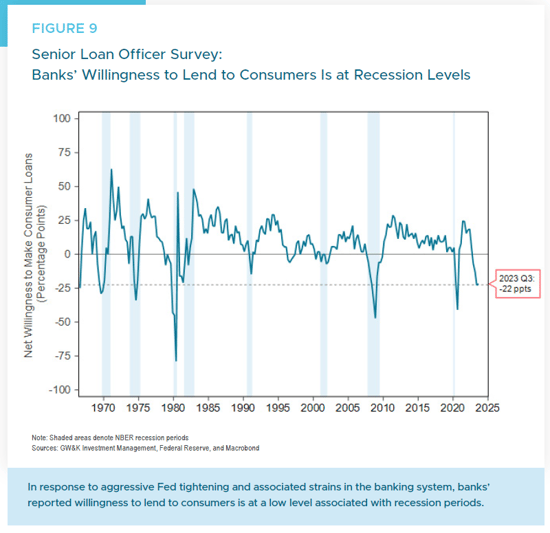 The resumption of student loan repayments may impact consumer spending, given the $84 billion annual rate seen recently (Figure 10).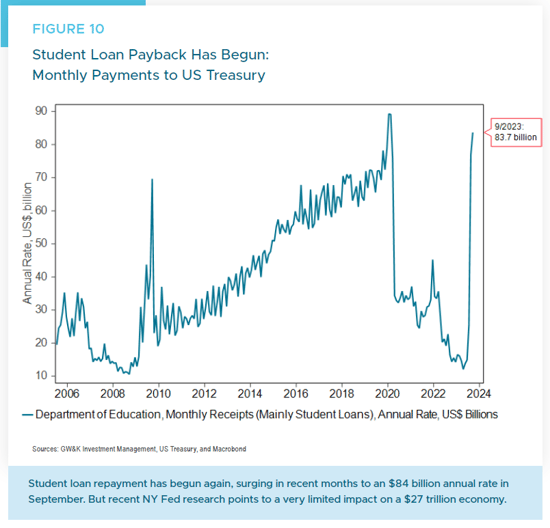 Signs of a cooling labor market include reduced hiring plans by CEOs and a more pessimistic outlook from small business owners (Figure 11).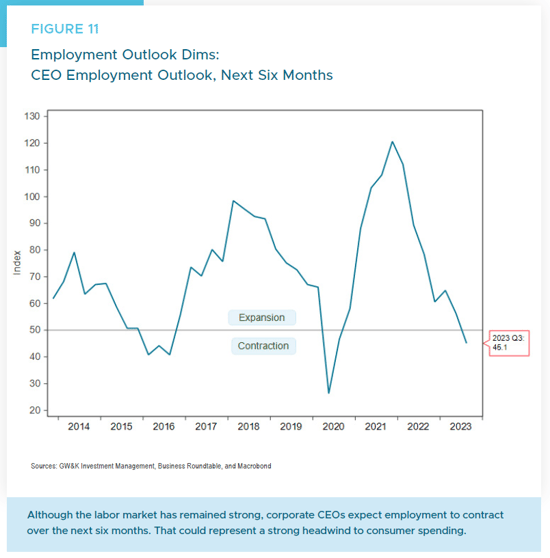 Significantly increasing jobless claims across most US states suggest potential economic weakness ahead (Figure 12).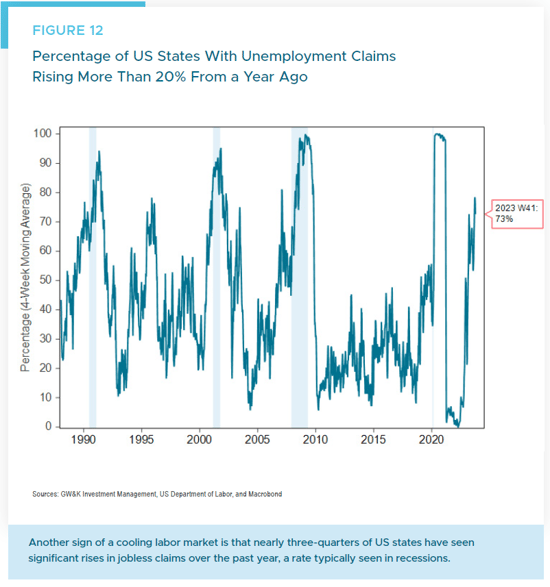 Moreover, the specter of geopolitical risks, such as the recent Israel-Hamas conflict, might have repercussions for global oil prices and, subsequently, US consumer spending.
In conclusion, while US consumers have demonstrated resilience, the road ahead is uncertain and challenging. The Federal Reserve aims to rein in consumer spending and combat inflation. Whether the US experiences a recession or a softer economic slowdown remains to be seen. Yet, the broader trajectory is evident: Consumer spending is poised to decelerate. How rapidly this occurs will dictate the Fed's future actions, including potential rate cuts projected for the latter half of the upcoming year.
William P. Sterling, Ph.D.
Global Strategist